Soccer. Football. Lacrosse. Rugby.
Ultimate Frisbee. Kickball.
DICK'S Sporting Goods Park hosts youth & adult activities on the fields including practices, leagues, tournaments, & special events of all types and sizes. The complex additionally serves as the home of the highly competitive Colorado Rapids Developmental Academy, well known for its homegrown development of multiple players on the U.S. Men's National Team.
The 21 multi-purpose grass fields are made up of locally grown Kentucky Bluegrass while the 2 synthetic turf fields are comprised of DESSO DNA X60. All the complex's fields are regularly lined for regulation soccer field usage. The fields can also be uniquely configured to accommodate most layouts and dimensions for specific event requirements (example: 3v3 soccer, football, boys or girls lacrosse, etc.). NOTE: Additional striping, painting, and/or labor fees may apply for this service.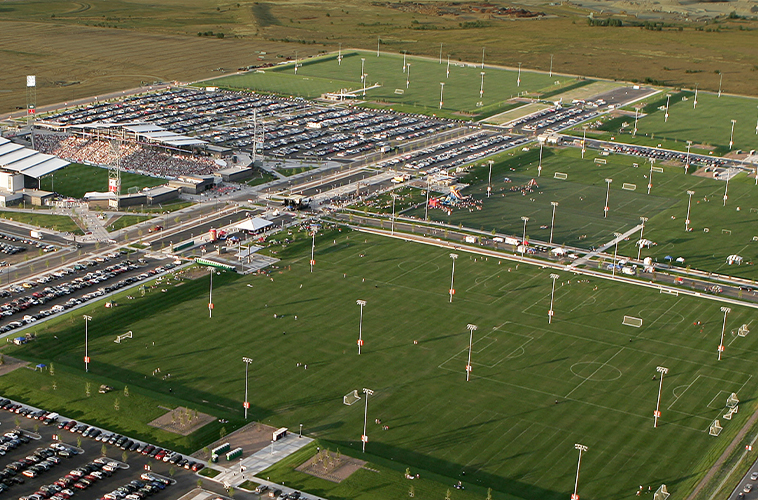 RENTAL RULES:
A full set of rules will accompany the executed rental contract.
The user shall not conduct any sales of food and/or beverage at DICK'S Sporting Goods Park without prior written consent.
No permanent or temporary advertising signage or trademark visibility is allowed at the facility without prior written approval.
Alcohol, Smoking, & Dogs (with the exception of assistance animals) are NOT allowed on the facility without prior written approval.
Please allow up to at least 5 booking days for your rental request to be processed. Any requests made within 5 booking days of rental date may be subject to late booking fees or denied.
---
REQUIRED INFORMATION:
Certificate of Insurance with the following listed as an additional insured:
Kroenke Stadium Services
6000 Victory Way
Commerce City, CO 80022
A Completely filled out FIELD RENTAL APPLICATION.
Please include plans for site layout, potential sponsors, giveaways, signage, food & beverage, hours of operation, etc.
---
If you are interested in using DICK'S Sporting Goods Park's field complex for your next event, please fill out the Rental Application (Printable Version) and send it in by any of the following ways:
Email Nick Miles: nick.miles@teamkse.com | Xander Cooper: xander.cooper@teamkse.com | or Jason Visser: jason.visser@teamkse.com
OR
Mail: DICK'S Sporting Goods Park
Attn: Nick Miles
6000 Victory Way
Commerce City, CO 80022
---
For any additional information regarding field rentals, please visit the Rules & Regulations page.
For any questions that do not have to do with field rentals, please call the DICK'S Sporting Goods Park main line at 303.727.3500 to be directed to the correct person